A Chance encounter or a miracle?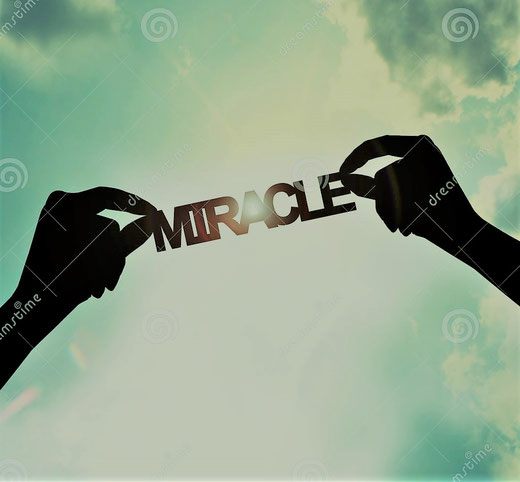 Chance encounters or "miracles." Some need to see a burning bush, a voice from above, indeed it is about listening to the inner voice, the inner wisdom you were born with, understanding when a prayer is answered. I'm living proof chance encounters result in life-altering events and relationships. This maybe frequent in number yet rarely recognized, is this by luck or blessing from God. The result is equally impressive, I suggest to you a miracle. May I start with a story? I use stories to illustrate my points.
A widow woman living out her life as a Christian dedicated to her church family, and alone. Nothing wrong with being alone, unless you desire to be with someone. She serves the church in every role and function; She prays daily for a special someone in her life. Serving God and her church faithfully until her death. Entering Heaven, she is greeted with open arms by an angel at the entrance to heaven. Asking if speaking to God is allowed. "Yes," says the angel. She speaks. "God, I served you faithfully my entire life, my only selfish prayer is to meet someone special to live out my life. Why, why would you not grant this one request?"
A gentle voice says. "I heard your prayers." She interrupts saying, "I met no one." The voice remains gentle. "Do you recall the postman leaving a rose every Valentine's Day, every Easter. Mr. Wilson who sat with you most Sunday's until such time he met someone who spoke to him. The repairman sent to repair your washing machine, remembering he found nothing wrong, he remained at your house for hours drinking coffee until leaving for another appointment. You never ask his name, if he would like to return for coffee sometime."
Standing in silence, "I had no idea!" The angel takes her by the hand, walking her through the pearly gates explaining. "you see God grants miracles every day many, overlooked, neglected, ignored. Sometimes not in an expected form, timing not good, timing is not convenient, maybe too good to be true, so the miracle, the granting of their own prayer is missed. Thank you for your dedicated service to others, welcome to heaven where this is all behind you."
The difference in a chance encounter and a long-term friendship/relationship, "miracle" is a thin line. I promised God while in prison I will talk to anyone about anything if given the opportunity. Answering every question involving past and present events with honesty, sharing the lessons acquired through life. Taking every phone, answering every email. Some calls might be solicitations, some emails, online contacts become weird, I halt the communication, these are few, simply stated most are rewarding. In Second Chance class we learn everyone interprets chance encounters differently. You must have the conversation, for the magic or chemistry, if good move forward with what is, bad it is an experience you learn from. When the opportunity presents itself, I speak to people, animals, particularly dogs, the audience is a gift. I'm uplifted by the interaction, my books, talks, and speeches open opportunities.  My imprisonment closed a few doors, opened hundreds of opportunities having communications never possible.
Missed opportunities or "miracles"? You have the feeling, this voice inside of you. Do you speak to this person or not, give homeless person money when you never do, open the door for someone, smiling saying good morning?
Final story: An elderly woman living in my neighborhood, was a recluse. The children in the area said she was a witch. Walking home from school, her front door open, seeing her looking out the door. My inside voice, says "speak to her." I do, telling her the stories the kids tell, she laughs uncontrollably. Then asks, "do you have no fear of a witch?" Thinking for a moment, "never met one not sure." She laughs asking, "would you like sweet tea." Smiling "yes." We talk for hours on her front porch and many times later. She becomes a sounding board as I grow, I mow her lawn ending with a cold Coke Cola and a talk. She was a miracle in my life and I am a better person for having her to share my childhood issues with. 
The stories in my books, people who shape and assist in my career, my political hobbies, my successes, lifting me up in my failures, all relationships granted by God. Gina who taught the Second Chance class in work release, now a lifelong friend, a young man serving a long sentence nickname G-Money, chance encounters shaping my ever-evolving life. Listen to the voice, speak to those you wish to talk to. Recently losing my long-time pet, Titus. Frequently speaking to, interacting with dog's, meeting those who care for them, resulting in conversation sometime leading to a discussion, you never know. Not smart enough to know God's plan. Recently had a chance encounter with Oscar, a beautiful and sweet dog who touched my heart. The experience opening my eyes, reminding me, all is possible when you listen to your inner wisdom, the inside voice we like to ignore. God works in mysterious ways and in God's time. Not strange, maybe foreign to you, slow down and listen to the inner voice, the possibilities are endless, more awaits you than you could ever know.
I am blessed to interact with, those who read my blogs, my books, hear my speeches, sales meetings or an email, text or private message. We are in each other's life for a reason, not the season. Ask yourself, open your heart and mind to the "miracles" happening around you. Listen, hear what you do not hear, see what you do not see. The wisdom, inner voice, given to you at birth by God, guiding you to receive all good is your destiny, yes use this inner wisdom to avoid the bad, I have listened and not listened. Listening, using the gifts is easier, opening doors, making opportunities possible. Stand beside me, see the path paved with diamonds and gold. You are gifted, you are special. A quote from my last blog, "Living every day as if the one chance encounter with one person will make or break the life in front of us." In this illustration, will you see the miracles, the chance encounter or forever question what might have been? Know what an honor and privilege to share my stories with you, reach out anytime when touched to do so.
Michael's Latest book "The Young Man and the Sea" out this summer on Amazon and at MichaelHolley.com.
https://www.amazon.com/Michael-R-Holley/e/B00R0GD0KO